Lexham Methods Series: Linguistics & Biblical Exegesis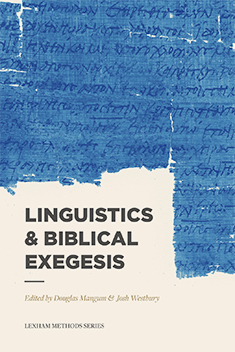 Overview
We rarely think about the way languages work because communicating in our native tongue comes so naturally to us. The Bible was written in ancient Hebrew, Aramaic, and Greek—languages no modern reader can claim to have a native understanding of. A better understanding of how language works should help us understand the Bible better as we seek to discern the original intent and meaning of each biblical author. In Linguistics & Biblical Exegesis, you will get a basic introduction to the field of linguistics—its history, its key concepts, its major schools of thought, and how its insights can shed light on various problems in biblical Hebrew and Greek. Learn how the study of language can enhance your Bible study.
About the Lexham Methods Series
The Lexham Methods Series is designed for exegetes who need to learn, refresh, and master the tools of biblical scholarship. The books present scholarly information in an easy-to-understand format and focus on cutting-edge methods for biblical interpretation while avoiding jargon. The four volumes give you a complete overview of every major type of biblical interpretation, featuring history and key figures, methods and terms, and a how-to section, giving you a strong foundation for further research.
Praise for Linguistics & Biblical Exegesis
This is a real gem. It provides an easy-to-follow bird's eye view of those developments and aspects of linguistics that may be helpful for better understanding the source texts of the Bible. It is a must read for students and exegetes who are serious about understanding the richness but also fascinating complexity of the Biblical texts that are so dear to us.
—Christo Van Der Merwe, professor of biblical Hebrew, Stellenbosch University, South Africa
Contents
Introduction to Linguistics and the Bible by Wendy Widder
Linguistic Fundamentals by Wendy Widder
Language in Use by Jeremy Thompson and Wendy Widder
Language Universals, Typology, and Markedness by Daniel Wilson and Michael Aubrey
Major Approaches to Linguistics by Jeremy Thompson and Wendy Widder
Linguistic Issues in Biblical Hebrew by Wendy Widder
Linguistic Issues in Biblical Greek by Michael Aubrey
The Value of Linguistically Informed Exegesis by Michael Aubrey
Product Details
Title: Linguistics & Biblical Exegesis
Editors: Douglas Mangum and Josh Westbury
Series: Lexham Methods Series
Publisher: Lexham Press
Publication Date: 2016
Format: Digital
About the Editors
Douglas Mangum is an academic editor for Lexham Press. He holds a PhD in Hebrew from the University of Free State and holds a Master of Arts in Hebrew and Semitic Studies from the University of Wisconsin–Madison. He is an associate editor of the Lexham Bible Dictionary, editor of the Lexham Methods Series, and a regular Bible Study Magazine contributor.
Josh Westbury holds a PhD in Biblical Languages from the University of Stellenbosch in South Africa. He also holds an MA in Biblical Languages from the University of Stellenbosch, a Master of Divinity degree from Southwestern Baptist Theological Seminary with a focus on exegesis and Biblical Languages, and a BA in Theology and Biblical Languages from Houston Baptist University. Josh currently serves as a Scholar-in-Residence at Faithlife.
Reviews
What other people are saying about Lexham Methods Series: Linguistics & Biblical Exegesis.