Philippians 1:1-2:18: Evangelical Exegetical Commentary (EEC)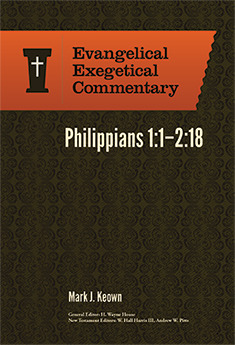 Overview
Philippians is considered one of Paul's most encouraging letters. Mark J. Keown shows how Paul appeals to Christ's exemplary acts of humility and sacrifice to encourage believers to live worthy of the gospel in every aspect of life. He draws attention to the pastoral heart of the imprisoned Paul, who warns the Philippians against false teachers while calling them to demonstrate their imitation of Christ through a commitment to mission and "radical generosity."
Through rigorous examination of the original Greek text and engagement with the latest scholarship, Keown delivers an in-depth commentary on Philippians that captures the message of Paul's encouraging letter for believers today.
Get both volumes of Philippians together in hardcover or Logos digital format.
Key Features
Academic and evangelical commentary on Philippians
Cutting-edge evangelical research
Product Details
Title: Philippians 1:1-2:18: Evangelical Exegetical Commentary (EEC)
Author: Mark J. Keown
Editor: H. Wayne House
Series: Evangelical Exegetical Commentary (EEC)
Publisher: Lexham Press
Publication Date: 2017
Page Count: 800
Format: Logos Digital, Hardcover
Trim Size: 6x9
ISBN: 9781577997443
About Mark J. Keown
Mark J. Keown (ThD, Laidlaw College) is a Senior Lecturer in New Testament at Laidlaw College in Auckland, NZ and is the author of Congregational Evangelism in Philippians as well as numerous essays and journal articles. He is also an ordained minister and served at Greenlane Presbyterian Church from 1997–2003.