Living Well: God's Wisdom from the Book of Proverbs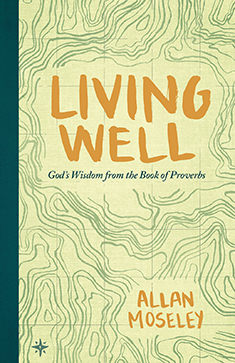 Memorable Wisdom
Money. Relationships. Gender roles. Work.
These can be challenging topics, but the Old Testament book of Proverbs can help us navigate them.
In Living Well, you'll find a blueprint for how to build a life according to God's wisdom—helping us live well both in our earthly lives as well as strengthening our covenant relationship with the God who gave us Proverbs as a guide. Allan Moseley walks with readers through specific topics—money, relationships, work, and more—examining what Proverbs has to say and translating it into practical advice for our daily lives.
Following the advice in Proverbs will help you live counterculturally—but it's also crucial for living well in the eyes of God.
Product Details
Title: Living Well: God's Wisdom from the Book of Proverbs
Author: Allan Moseley
Publisher: Lexham Press
Publication Date: 2017
Pages: 114
Format: Logos Digital, Paperback
Trim Size: 5x8
ISBN: 9781577997764
About Allan Moseley
Allan Moseley (Ph.D., New Orleans Baptist Theological Seminary) began his study of Proverbs as a young man and through the years has sought to live its wisdom, preach from the book, and teach it for 20 years as Professor of Old Testament and Hebrew at Southeastern Baptist Theological Seminary. He also has over 25 years of pastoral experience. He has written several books, including works on pastoral leadership and Old Testament exposition. He and his wife Sharon have been married for 37 years and have 3 married children and 6 grandchildren (so far).