Flawed Perfection: What It Means to Be Human and Why It Matters for Culture, Politics, and Law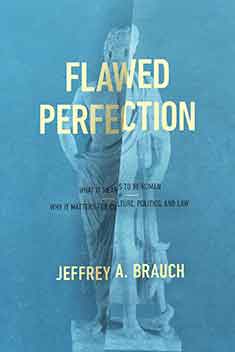 Understanding Our Nature
In order to understand the problems that face the world, you have to understand human nature.
Issues created by humanity itself seem to plague our world—from exploitation and violence to decisions about how to wisely govern or care for human life. And these topics aren't just abstract problems—they impact the day-to-day lives of many individuals globally.
But in light of the complexity and brokenness that such issues hold, how should Christians respond in a thoughtful, ethical way?
It starts, says Jeffrey A. Brauch, with a correct view of human nature, one based in the Bible—which says that we're both fallen but also created in God's image, sinless. Such a perspective gives us a starting place from which to speak out against injustice while fundamentally seeing humanity as God's creations. By looking at legal policy and history and the ways that both legal action and grassroots activism have succeeded and failed, Flawed Perfection is a non-partisan examination of many issues that challenge Christians today—and provides the language to think carefully through and then respond to those issues in light of the gospel.
Product Details
Title: Flawed Perfection: What It Means to Be Human and Why It Matters for Culture, Politics, and Law
Author: Jeffrey A. Brauch
Publisher: Lexham Press
Publication Date: 2017
Pages: 240
Format: Logos Digital, Paperback
Trim Size: 5.5x8.5
ISBN: 9781683590248
About Jeffrey A. Brauch
Jeffrey A. Brauch is a professor of law and former dean at Regent University School of Law in Virginia Beach, Virginia. During his more than 20 years at the school, he has taught classes on the Christian foundations of law, international human rights, criminal law, civil procedure, and the origins of the Western legal tradition—covering a breadth of issues and providing him with the inspiration to write Flawed Perfection. He also helped found and is the executive director of Regent's Center for Global Justice, Human Rights, and the Rule of Law. He and his wife, Rebecca, lead the college and career group at their church and have four children.