An Exegetical Theology of 1–3 John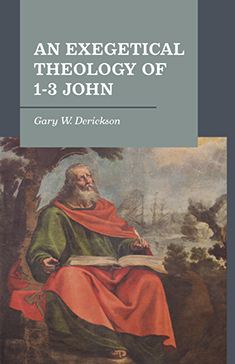 An Exegetical Theology of 1–3 John
1–3 John look entirely different through the lens of systematic theology.
1–3 John are very short letters. As a result, the theology of these letters is often overlooked. In An Exegetical Theology of 1–3 John, Gary Derickson helps readers see the distinct theology of John's letters. His exegetical analysis of the letters of John reveals how they make unique contributions to Christian theology. In the end, Derickson shows that 1–3 John are full of a wealth of theology that is worthy of the church's attention, both in the first century and today.
An Exegetical Theology of 1–3 John approaches the letters using the major categories of systematic theology. By examining the letters in this manner, Derickson is able to draw a clear line between the theology of 1–3 John and the key doctrines of Christian theology, helping Christians re-integrate these neglected letters into their knowledge of Scripture and God.
Contents
Introduction
Theology Proper
Attributes of God
God the Father
Christology
Pneumatology
Angelology
Scripture
Anthropology
Hamartiology
Soteriology
Ecclesiology
Additional Themes/Doctrines
Product Details
Title: An Exegetical Theology of 1–3 John
Author: Gary Derickson
Publisher: Lexham Press
Publication Date: 2017
Pages: 288
Format: Logos Digital
About Gary Derickson
Gary Derickson is ministry division chair at Corban University. He is the author of 1–3 John: Evangelical Exegetical Commentary and has published articles in Bibliotheca Sacra, ETS Studies Series, The Master's Seminary Journal, and The Journal of the Grace Evangelical Society. He contributed to The Nelson's Complete Study Bible and is co-author of The Disciplemaker: What Matters Most to Jesus.
Reviews
What other people are saying about An Exegetical Theology of 1–3 John.