When you order the EEC, all of the volumes listed below as Now Available are automatically downloaded. As the series grows and new volumes are released, the remaining commentaries will download automatically as soon as they ship.
The Evangelical Exegetical Commentary is a brand new, 44-volume commentary series which incorporates the latest critical biblical scholarship and is written from a distinctly evangelical perspective. Published by Lexham Press, the EEC is the next standard commentary on the entire Bible for evangelicals. Like the Word Biblical Commentary and the Baker Exegetical Commentary, the EEC is written by a team of leading biblical scholars. Contributors to the EEC include Eugene Merril, Edward Glenny, Michael Stallard, Stanley E. Porter, John Oswalt, William Barrick, Eugene Carpenter, Richard Averbeck, R. Dennis Cole, H. Wayne House, and many others.
The publication of the EEC by Lexham Press marks the first time a major Bible commentary series has been published in digital form before its print counterpart—and the first time it has been published with a digital format in mind.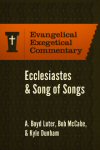 Song of Songs
Author: A. Boyd Luter
Editor: H. Wayne House and William D. Barrick
Publisher: Lexham Press
Publication Date: 2013
The biblical book that deals most extensively with romantic and sexual wisdom is the Song of Songs. In this commentary, A. Boyd Luter argues that the Song contains an inverted parallel structure that divides it into seven sections, taking a young couple from their initial longings and expressions of affection for each other, to their wedding day, and on to the various struggles that threaten to derail their love. For each section, Luter comments on the text and background of the Song and provides helpful suggestions for how it might be preached and applied today.
A. Boyd Luter is Adjunct Online Professor of New Testament at Liberty Baptist Theological Seminary. He has authored several books, including Looking Back, Moving On, God behind the Seen: Expositions of the Book of Ruth and Esther, and Inspired Preaching: A Survey of Preaching in the New Testament. Luter has written numerous articles and book reviews for various publications, including Bibliotheca Sacra, Journal of the Evangelical Theological Society, Faith and Mission, Journal of Pastoral Practice, and Criswell Theological Review.
H. Wayne House, General Editor of the ECC, is Distinguished Research Professor of Biblical & Theological Studies at Faith Evangelical Seminary in Tacoma, Washington and President of Christian Perspectives International. He is the author of Charts of Contemporary Cults, Sects, and Religious Movements, Charts of Christian Theology and Doctrine, and Divorce and Remarriage: Four Christian Views.
William Barrick, Old Testament Editor of the EEC, is Professor Old Testament and Director of Th.D. Studies at The Master's Seminary. Dr. Barrick has contributed to Bible translations in six languages, authored 24 books, and written more than one hundred scholarly articles and reviews. He has also contributed to Coming to Grips with Genesis: Biblical Authority and the Age of the Earth, Proceedings of the Fifth International Conference on Creationism, and A Grammar for Biblical Hebrew.
W. Hall Harris III, Co-New Testament Editor of the EEC, is Professor of New Testament Studies at Dallas Theological Seminary.Dr. Harris serves as project director and managing editor of the NET Bible, the first Bible to be published electronically on the internet. He recently has published a commentary on the letters of John, 1, 2, 3 John: Comfort and Counsel for a Church in Crisis. He is also the editor of the Lexham English Bible.
JoAnna M. Hoyt is a visiting professor at Dallas Theological Seminary, and an adjunct professor at the Graduate Institute of Applied Linguistics. Her main area of research is Hebrew exegesis and linguistics. She has a Ph.D. and Th.M. in Old Testament Studies from Dallas Theological Seminary and a B.A. in Christian Studies (Theology and Biblical Languages) from Howard Payne University. In addition to her academic work she worked in campus ministry for seven years and continues to be active in ministry.
Andrew W. Pitts, Ph.D. (McMaster Divinity College) is the Chair of the Department of Biblical Studies and Assistant Professor of Biblical Studies at Arizona Christian University. Andrew has published articles in multiple peer reviewed journals including Journal of Biblical Literature, Currents in Biblical Research, Journal of Greco-Roman Christianity and Judaism, and Religions. He is the author (with Stanley E. Porter) of Fundamentals of New Testament Textual Criticism (Eerdmans Publishing Co., 2014) and has most recently co-edited Early Christianity in its Hellenistic Context (vols. 1-3) (Brill, 2013-present). He also serves (with Stanley E. Porter) as the editor of The Brill Exegetical Commentary (2009-present). He is a New Testament editor and the author of the Mark and Colossians volumes in the EEC.