Shattered Prayers: The Testing of a Father's Faith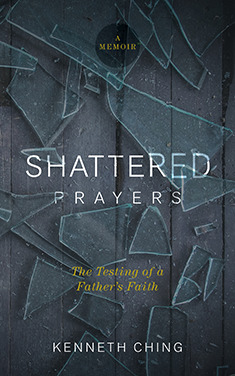 Kenneth Ching was young, healthy, and prosperous. He believed in God and believed he was good. But when his son is born with a rare genetic condition, his life is thrown into an unpredictable and terrifying pattern he can no longer control.
With refreshingly honest prose, Ching masterfully recounts his battle of struggling to understand God's plan when some prayers are answered and others are not. He learns to rejoice when his son is healthy and grieves when he is sick, while asking the tough questions most people are afraid to say out loud.
This is a story about wrestling with God, about suffering and doubt, and ultimately about the hope that comes only in the midst of brokenness.
Praise for Shattered Prayers
Shattered Prayers is an artful examination of faith in the face of suffering. In recounting his family's story, Ching allows the reader access to a father's inner dialogue with a candor that is at turns frightening, vulnerable, and beautiful—often at the same time. And while the book's primary preoccupations are questions of faith, the story is told with a sense of drama that keeps the reader rapt.
—Gabriel Urza, author of All That Followed
Shattered Prayers is a very real and honest look at the struggles of parenting a child with special needs. Kenneth Ching writes with transparency, expressing his frustrations with God and despite losing hope at times, never losing faith. He reminds us that although God doesn't always work the way we expect him to, he still loves us and our children even more than we can imagine.
—Claire Yorita Lee, author (with Shari Rigby) of Beautifully Flawed
Reviews
What other people are saying about Shattered Prayers: The Testing of a Father's Faith.