Living Doctrine: The Book of Titus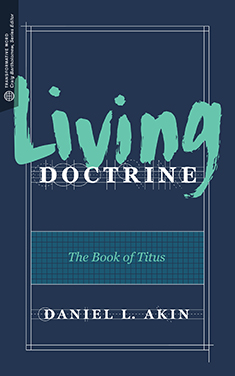 Living Doctrine
Good Christian doctrine is not simply getting the facts right: it is something transformative, brought to life in obedience to Christ.
In his letter to Titus, the Apostle Paul implores the reader to take truth seriously and to ensure that the good news of gospel is being passed on in its full force. Solid Christian doctrine and a passion for godly Christian life are twin themes weave their way throughout this short epistle. In Living Doctrine, Danny Akin unpacks this powerful message and shows how these themes are still vital for Christians today. Accessibly written but informed by deep scholarship, this book will benefit readers from all walks of life. Like the biblical book it covers, Living Doctrine is concise, gospel-centered, and immensely practical.
The Transformative Word Series
God's Word is transformative. It is this conviction which gives the Transformative Word series its name and its unique character. Series Editor Craig G. Bartholomew has worked alongside authors from around the world to identify a key theme in each book of the Bible, and each volume provides careful Biblical exegesis centered on that gripping theme. The result is an engaging, accessible thematic exploration of a biblical book, poised to offer you new and refreshing insights.
Learn more about the other titles in this series.
Contents
Introduction
Saved to Serve
Qualifications of a Godly Leader
The Ministry of Confrontation
Pursuing Godliness: The Roles of Men and Women in the Church
Servant Evangelism: A Biblical Perspective on Slavery
The Amazing Grace of God
New Birth for a New Life
Church Discipline: A Missing Essential in the Life of the Contemporary Church
Conclusion
Product Details
Title: Living Doctrine: The Book of Titus
Author: Daniel Akin
Series: Transformative Word
Publisher: Lexham Press
Publication Date: 2017
Format: Logos Digital, Paperback
Trim Size: 5x8
ISBN: 9781683590606
About Daniel Akin
Daniel L. Akin serves as President and Professor of Theology and Preaching at Southeastern Baptist Theological Seminary in Wake Forest, NC. He holds an M.Div. from Southwestern Baptist Theological Seminary and a Ph.D. from the University of Texas at Arlington.